The function of terpenes in plant defense
Plants do not only accumulate terpenes for herbivore defense, but also emit volatile blends in response to herbivory and many other biotic and abiotic stresses. These terpene-containing volatiles attract natural enemies of the attacking herbivores but due to the complexity of these volatile blends, it is difficult to attribute a specific function to a particular terpene.
Characterization of the genes involved in terpene biosynthesis provides us with molecular tools to dissect these complex interactions between three groups of organisms, the plant, the herbivore insect and the herbivore enemy. To assay the function of the sesquiterpenes that are released after damage of maize leaves by the caterpillar Spodoptera littoralis, we expressed the terpene synthase responsible for the production of these volatiles in Arabidopsis. Arabidopsis plants produce these terpenes constitutively without other herbivore-induced compound and can be used in bioassays to test the attraction of herbivore enemies by these volatiles. The bioassays showed that the parasitic wasp Cotesia marginiventris, a generalist enemy of lepidopteran larvae like S. littoralis, is attracted by these volatiles after a previous exposure. The attraction of the parasitic wasps leads to a greater parasitation of wasps and can result in less damage to the plants, thereby constituting an indirect defense.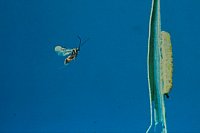 The role of terpenes as signals in plant defense. Volatile terpenes released from the leaves of a maize plant after attack by caterpillars attract parasitic wasps that are natural enemies of the caterpillars. Photo by Ted Turlings.
Maize roots damaged by the maize pest Diabrotica virgifera virgifera emit the sesquiterpene (E)-β-caryophyllene which attracts entomopathogenic nematodes. These nematodes attack the larvae of D. virgifera and thereby benefit the maize plant. We identified the terpene synthases that produces the (E)-β-caryophyllene and utilize transgenic plants and transposon insertion lines to study the importance this terpene signal for plant defenses. The impact of this defenses on maize in its natural environment can be tested in field experiments. Corn plants with an increased defense capability may have promise for agricultural use.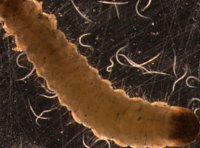 The role of terpenes as signals in plant defense. Feeding of larvae of the beetle Diabrotica virgifera on maize roots (not shown) attracts entomopathogenic nematodes that attack the larvae of D. virgifera. Photo by Ted Turlings.
---
---